Tourists from all over the world come to Bali for different reasons. Some visit to experience peace and serenity while working on getting their yoga instructor certification up in Ubud, some come to let their hair down in Kuta, and others come to experience Bali's wonderful dive sites. If you're part of the crowd coming to swim the majestic deep blue seas of Bali, it's only right that Pemuteran is on your agenda as the Pemuteran region is unrivaled when it comes to offering exquisite diving opportunities leason like PADI Open Water Diver course.
Pemuteran stands out from the other dive sites scattered around Bali because of the fact that the sites in this region are relatively unknown, making it ideal for divers who want to stay away from the crowds. It is because of this reason Pemuteran has been ranked among one of the best diving destinations on the island.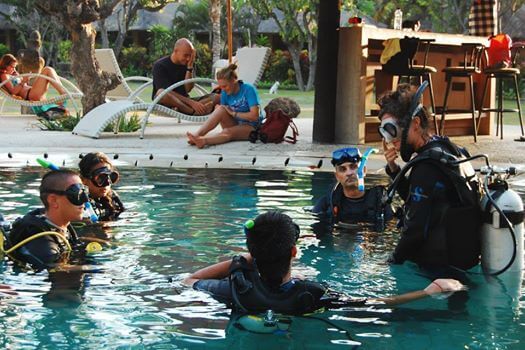 Pemuteran is also an excellent place for beginners to work on the necessary skills needed to obtain a certification in Open Water Diver Course. It has become the perfect destination for diving lessons because of the number of dive sites that allow beginners to enjoy themselves without unnecessary risks.
If you are looking for a PADI Open Water Diver course, there are 15 dive sites that are suitable for this. These sites boast favorable currents, and not to mention, are spectacular to visit. One of the most incredible and popular spots for a PADI Open Water Diver course is Garden Eel Menjangan. This dive site has a shallow and sandy bottom with rich coral slopes that are perfect for scuba diving training. Whether you are traveling alone or with family, you will have lots of fun learning how to dive like a pro without putting yourself in any danger.
So, if you have always dreamt of exploring the underwater world and snapping some amazing photos, it's time to enroll yourself in a PADI Open Water Diver course. Acquiring your PADI Open Water Diver certification will not only mean that you're a certified diver but because this certification is recognized worldwide, your diving opportunities will be limitless.
Eligibility prerequisite for PADI Open Water Diver course
Note: 10 – 14 years old (Junior Open Water), Your certification automatically upgrades on your 15th birthday at which time you can apply for an adult certification card from PADI
Adequate swimming skills
Good physical health
Skills learn in PADI Open Water Diver course
The course involves:
Knowledge development; can be done either online or in a classroom setting
Equipment familiarity and learning how to use it
Water dives in a confined area to put into practice what you studied in the classroom
Water dives in open water to experience everything you learned thus far
What are you waiting for? Get started immediately either by enrolling in a PADI eLearning class (online Open Water Diver course) where you can get home instructional materials once you download the PADI app–Open Water Diver Touch TM, or by heading to the nearest PADI training center. For those who are in Bali, contact us at Abyss Ocean World and our instructors will happily teach you how you can explore and enjoy the aquatic world, safely.