Welcome to Pemuteran!
The topography of the bay of Pemuteran is surrounded by seamounts or artificial reef created by an initiative of the local inhabitants fifteen years ago. What's special around here? Macro dive from frogfish, electric clams, halgerda's, nembrotha's chromodoris's nudibranchs, seahorse and also some great chances to visits some white tip sharks and school of fusiliers.
Dive Sites Information
We are keeping dive sites information in our book of secrets but here is a little bit of information to 3 populars dive sites we like to take divers to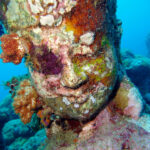 Temple Wall
Depth : 10-30 meters
Description : Underwater temple lies at the feet of a magnificent walI at one end of Pemuteran Bay. Statues and walls have been carefully brought down to create an artificial reef on a sandy bottom. Electric clams, different nudibranch and sometimes ghost pipefish can be encounter here.
Close Encounter
Depth : 5-35 meters
Description : Close encounter is one of the most famous seamount in the area. Beautiful sandy patch mixed in a great and healthy reef, it offer some great spot to shelter juvenile white tip shark as well as offering us some great encounter with schools of fish.
Deep Reef
Depth : 12-32 meters
Description : Deep Reef is one of our favorite Macro dive sites. Great chance to see electric clam, nembrotha, halgerda, chromodoris, flat worm and much more as well as octopus, cuttlefish, and more surprises.