Have you always dreamed of scuba diving?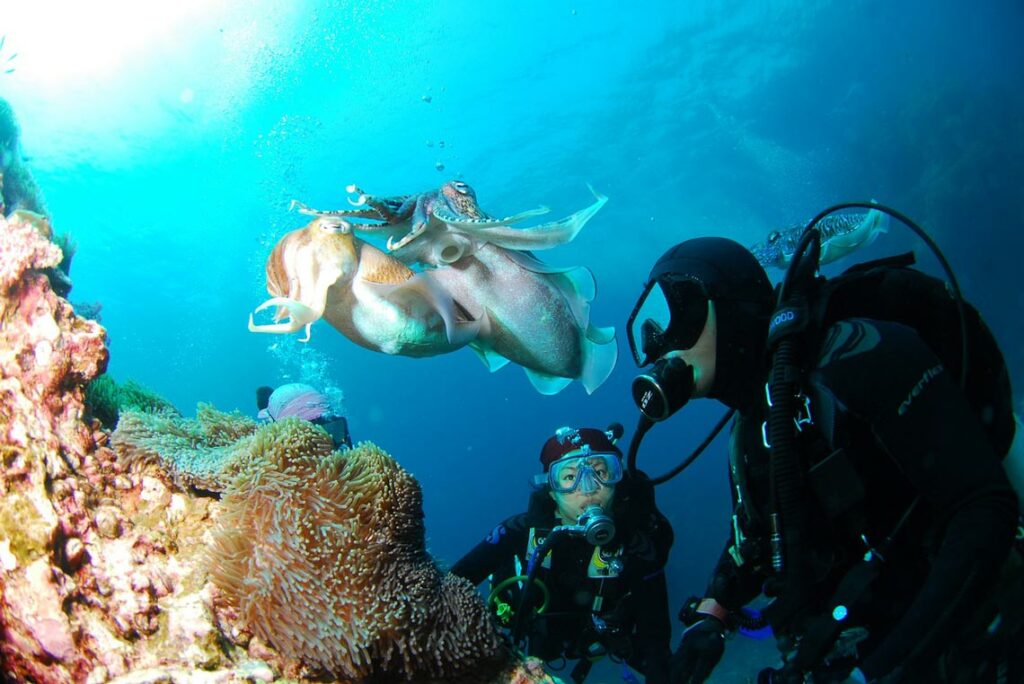 Have you heard that Indonesia is home to the best scuba diving on Earth? It's true! The Indonesian Archipelago is located in the heart of the Coral Triangle which is the most marine bio-diverse area on the planet. Imagine diving on some of the world's most vibrant coral reefs as you immerse yourself in a world of colour and life. Learn to dive with Abyss Ocean World in Bali and become a PADI Open Water Diver.
Why Take the PADI Open Water Course in Bali?
Learn to dive in Bali with Abyss Ocean World and you'll dive some of Bali's most famous dive sites including Menjangan Island and right here in Pemuteran. Pemuteran is our home base and offers a different side to Bali compared to what you will find in the south of the island. Immerse yourself in the local culture or simply unwind on the beach while overlooking the sea. Pemuteran is the perfect place to get away from the crowds, kick back and enjoy some incredible diving!
What is the PADI Open Water Diver Course?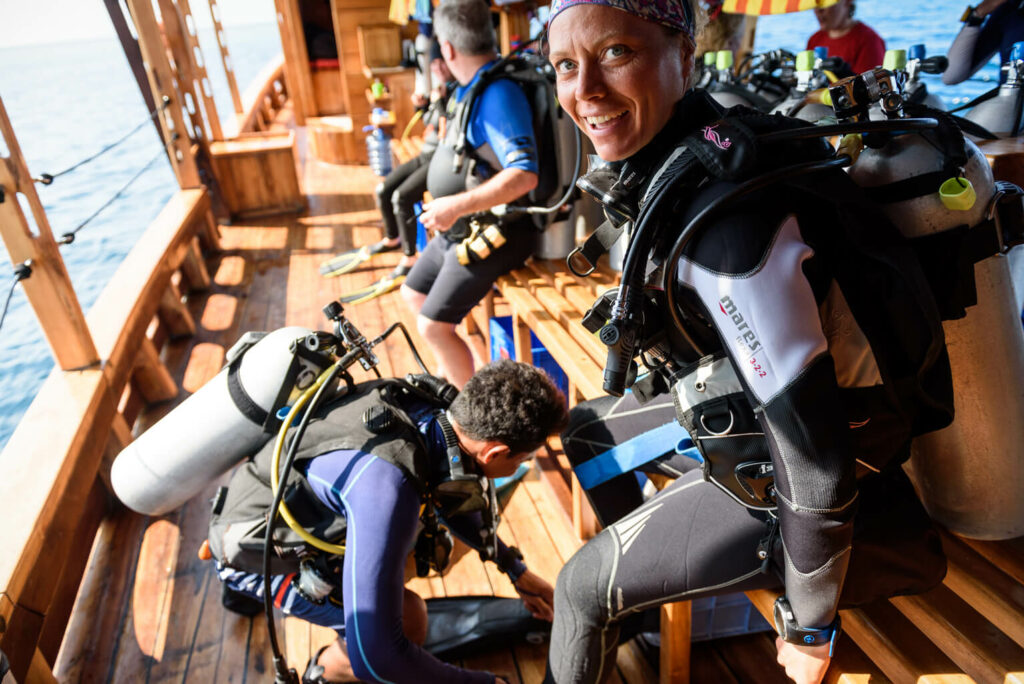 The PADI Open Water Course is the first level of diving certificate. You'll learn how to become a safe, competent and confident diver and you'll be certified to dive to a maximum depth of 18 meters. When you finish your PADI Open Water Course at Abyss Ocean World in Pemuteran you'll feel proud of your accomplishments, you'll have made new friends and you'll have your ticket to dive anywhere in the world!
Who Can Take The PADI Open Water Diver Course?
Anyone over 10 years old. No previous diving experience is required. Providing you are in good general health, are able to swim and have a reasonable level of fitness, you can sign up for the program.
What Does The PADI Open Water Diver Course Include?
The PADI Open Water Course is divided into 3 components (1) Knowledge Development, (2) Confined Water Dives and (3) Open Water Dives, as follows:
Knowledge Development: This is where you learn about the theory of diving and at Abyss Ocean World we offer two options for completing this component.
PADI E-Learning: PADI E-Learning allows you to study all of the Knowledge Development sessions online before you come to our PADI dive center in Pemuteran. PADI E-Learning allows you to work from home, at your own pace and fit your studying around your existing schedule. When you arrive at Abyss Ocean World you won't have to spend your holiday time studying – instead you'll be enjoying putting your theory in to practice and having fun in the water!
Studying at Abyss Ocean World – It is also possible to complete the Knowledge Development when you are here. You'll work through the PADI Student Manual and videos and answer quiz questions as you go along. There is a final exam at the end.
Confined Water Dives: These are sessions in our on-site swimming pool. You'll learn basic diving skills and techniques to keep you safe. You'll also run though how to deal with a range of emergency situations should they occur. The sessions in the swimming pool are a lot of fun and give you the opportunity to get familiar with the gear and techniques in a safe environment. All of our PADI Instructors are extremely patient and professional and your instructor will be by your side from start to finish.
Open Water Dives: This is what it's all about – you'll be making your first 4 dives in the ocean! During the dives you'll be asked to show your instructor the skills that you practiced in the pool and in between you'll be blown away by our underwater world of North Bali!
Want to Explore More of North Bali?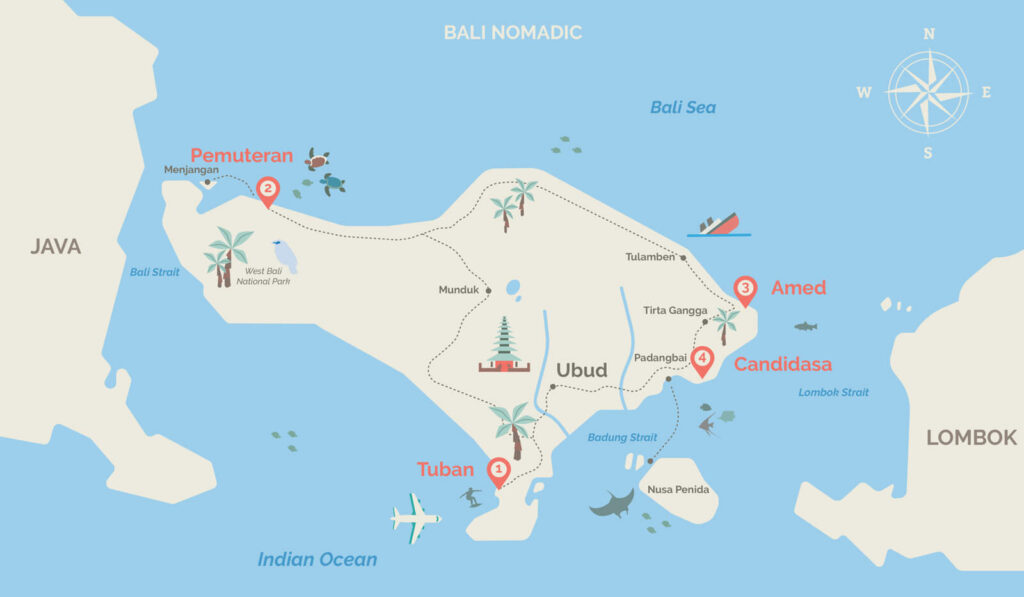 Not a problem! Why not join us for our Open Water Course Package which includes the the PADI Open Water Course in Pemuteran plus 2 additional fun dives after certification and 2 land activities for just IDR 6,950,00. It's a great way to dive more and see more while you are here.
Why Learn to Dive in Pemuteran with Abyss Ocean World
Because we believe in putting you first! You'll be well looked after here at Abyss Ocean World and you'll feel like part of our family. Your safety and enjoyment are our number one concerns and our team will make you feel at home from start to finish. Here are some of the highlights of learning to dive in Pemuteran with us:
This is your holiday and your diving experience. We keep our groups small so that you'll never feel rushed or pressured. We want you to enjoy your Open Water Course in Pemuteran and your program will progress at a speed which suits you.
We love marine life, diving and teaching! Our team of instructors are passionate educators who have years of experience and knowledge about local marine life. You'll learn so much more than how to dive when you take a program with us.
We are much more than a dive center! At Abyss Ocean World we love to explore topside as well as underwater. Join us on an adventure around Bali and discover temples, waterfalls, hidden beaches and stunning sunsets. Let us take you on a Safari around the Island of the Gods and experience all that Bali has to offer.
Want to dive deeper than 18 meters? Why not complete your stay in Bali with your PADI Advanced Open Water Course? It's a great way to consolidate your learning, have more time with your instructor and broaden your experience. You'll dive to 30 meters and have the chance to try night diving, wreck diving or practice your buoyancy – on our PADI Advanced Open Water Course in Bali you choose 3 of the 5 dives you make and we'll add in 2 additional fun dives and 2 land based activities all for IDR 5,950,000
If you'd like more information about joining us, and learning to dive, contact us at info@abyssoceanworld.com
What are you waiting for? Come and join us here in Pemuteran and discover the best of Bali!