Project Aware's Dive Against Debris Speciality
My PADI Divemaster Internship included some extra specialities to further develop my diving skills and abilities.   One of my favourite specialities was the Dive Against Debris Specialitiy
What is Project AWARE?

Project AWARE is a registered nonprofit organisation working to support divers acting in their own communities to protect the ocean. They are a key change maker in helping to change the current international legislation and social policies in regards to Shark & Rays conservation and reducing the dependancy on Single use Plastics
Another main focus of Project AWARE is connecting the passion for ocean adventure with the necessity of marine conservation.
What is the Dive Against Debris Speciality?
This course is created just for divers. It teaches scuba divers how to safely remove marine debris from the ocean and report data on the types, quantities and location of the  materials collected.
As the only underwater debris data collection program of its kind, Dive Against Debris  improves the health of ocean ecosystems through localised volunteer efforts.  With the data being reported to the Project Aware Debris Map, this provides valuable information about underwater debris to help inform policy change. 
Below you can see my experience during my PADI Dive Against Debris Specialty: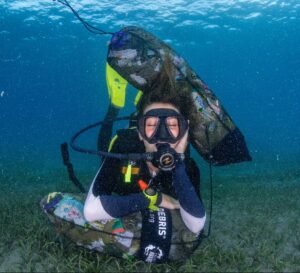 Summary of the Course  –  26/11/2019 – KM MARKISA Mooring
OBJECTIVES:
Follow guidelines of the speciality course
Collect underwater debris
Record & Report my data
BEFORE THE DIVE;
Read and understand the theory part of the course.
My PADI Instructor engaged me in a discussion about the upcoming dive and explained some special dive skills to pay attention to during the dive.
Assemble equipment, buddy check and jump in the water.
The area we choose to clean up is near where KM Markisa is  moored.

 

Every diver will have a trash bag. We will go to the position of KM Markisa mooring, once our bag is full. One crew member stays on the boat, he

 

then will collect the full bag by pulling up a rope and return it empty.
AFTER THE DIVE;
Separate debris we collected in categories based on composition and item.
Count it per groups and fill out the data card of Project Aware.

 

Finally, report it on My Oceans Account.
COMPUTER INFO:
MAX DEPTH:

     

10 meters
BOTTOM TIME:

 

71 minutes
TEMP:

               

29 degrees Celius
WEIGHT:

           

1kg
WETSUIT:

         

long lycra
DIVE BUDDY:

   

4 divers, 1 bag per diver
VISIBILITY:

       

5m
DIVE DEBRIEFING:
Our society is quite informed about the problem of plastic misuse and the pollution that we produce.  We all know these issues are causing a global disaster for the environment and the ecosystems.
However, getting into the water to collect garbage, makes you open your eyes and see in first person the reality of this disaster.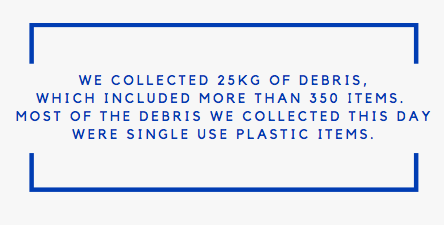 This dive made me feel really sad about the behaviour of humankind.  I'm not sure if we can solve this enormous problem. It does help me sleep at at night, to continuously search for the knowledge to be able to contribute positively. 
The ocean is our home, and we have to stop destroying her.
Collect trash from your local environment, use less plastic, recycle, conduct Dive Against Debris Dives. Choose one thing to help protect our Blue Planet.
If you want to join our team for a Dives against Debris, contact us @ info@abyssoceanworld.com
written by Laura JUSCHKAT