If you ever wondered about muck diving, we will now provide a short appetizer explaining why, where and how to muck dive.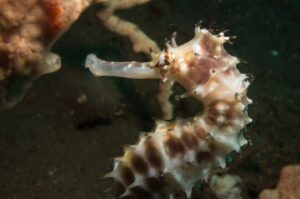 As a diver you probably know that you still have a lot to explore, there are thousands of dive sites still to dive and you are not sure where to go next. Not all dive sites have a beautiful reef but, maybe there is something else hiding in the muck that would be worth a shot. The muck is all the sediment found at the bottom of the ocean at these dive sites. It is usually a combination of natural debris, silt and sand.
Reef Vs. Muck Diving
We all had that one reef dive with around 30m/100ft visibility, everything is clear, sun is shining and you can just swim around and enjoy and absorb the view of the wonderful reef and all the creatures surrounding it. This scenery has nothing to do with muck diving, however, there are some amazing experiences waiting for you in the muck. Muck diving really takes a lot of focus, patience and relaxed diving behavior. It's all about spotting the fishes camouflaging themselves, but you have to be careful, some of them are doing a great job with the camouflage and you don't want to accidentally touch them.
This also relates to your diving skills and techniques that need to be on point in order to have a great muck dive. A perfect buoyancy is key to the perfect muck dive. The last thing you want to do is kicking up silt  so try using the froggie-style and keep your fins in a raised position.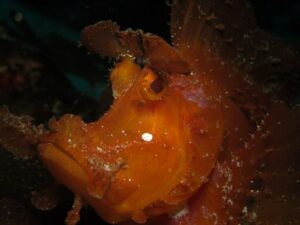 What is there to see and where?
Keep your eyes peeled for the blue ring octopus, frogfish, lion and scorpion fish, stone fish, pipefish, stingrays, nudibranch, moray eels, mandarin fish and devilfish among a host of others. Of course it depends where you are doing you muck dive but you might always run into some of the more common species like cleaner shrimps and commensal shrimps. You should also look for mantis shrimps, marble shrimp, harlequin shrimp
, upside down jellyfish crabs, hermit crabs and squat lobsters.
The list below gives an overview of some of our favorite places to dick in the muck
Indonesia – The Lembeh Strait has actually been name the critter capital of the world because of how dense the wonderful and weird marine life is and Ambon Bay.
Bali – North and East Coasts.
Philippines – Dumaguette and Anilau.
Borneo – Kapalai and Mabul Islands.
Papua New Guinea – Milne Bay.
Australia – Nelson bay
Norway – Gulen
The Caribbean
Hawaii
USA – California