Are you planning your next scuba diving in Bali adventure? Have you heard about the phenomenal dive sites and marine life of North Bali? Are you looking to escape the tourist crowds in the south and experience true Balinese rural life and take your Bali diving at a more relaxed pace? Dive in to Bali's north coast and you'll be immersed in the island's laid back vibe combined with stunning natural beauty and traditional charm – you'll also be blown away by these world-class Bali dive sites!
Here are some of the highlights of Diving in Bali and exploring the island's north coast underwater.
Pemuteran:
Pemuteran is Abyss Ocean World's home base here in Bali and we love the laid back, sleepy village vibe. Pemuteran sits along the coast line with views over to Menjangan Island. Around Pemuteran you'll find stunning scenery, rice fields and even fields of sweetcorn plants growing tall! It's a great place to take a walk around and explore the back roads for a real taste of local, rural Balinese life.
Pemuteran's Bio-Rock: A great place to shore dive and the famous Bio-Rock site is just a step off the beach. The Bio-Rock structures quickly become encrusted in corals in Pemuteran's nutrient rich waters and they attract a plethora of critters and fish. Look out for lionfish, damsels, Moorish idols, moray and ribbon eels, nudibranch, batfish, occasional barracuda and schools of yellow snapper and mackeral – it's a great site for a relaxing shallow dive from the beach and there's always something to see.
The project was put in place in 2000 and is continuously evolving.  The project is now managed by the local village which has formed a Biorock Organisation which also takes action to conserve and protect Pemuteran's marine environment.
Pemuteran is an ideal place to learn to dive in Bali. Conditions around Pemuteran are calm all year round with warm water and plenty of fish. If you are thinking about taking your PADI Open Water in Bali then Pemuteran is the ideal location. You'll learn with our team of experienced PADI Instructors, have lot of fun and become a confident and capable diver. You'll soon discover why everyone is talking about scuba diving in Bali!
Menjangan Island:
Located in the Bali Barat National Park, Menjangan Island is a Marine Protected Area and the island remains uninhabited, but is home to a large Hindu temple which is visited by the local people. Menjangan offers a range of topographies including sloping reefs and its famous wall diving sites.
Marine life around Menjangan is rich and varied. Highlights include green turtles, white and black tip reef sharks passing through, schooling snappers, damsels, fusiliers, black corals and gorgonian sea fans. You'll also find a selection of critters from nudibranch, lionfish, eels, crustaceans, octopus and cuttlefish. Larger pelagics are also know to cruise through so keep an eye out to the blue – you never know!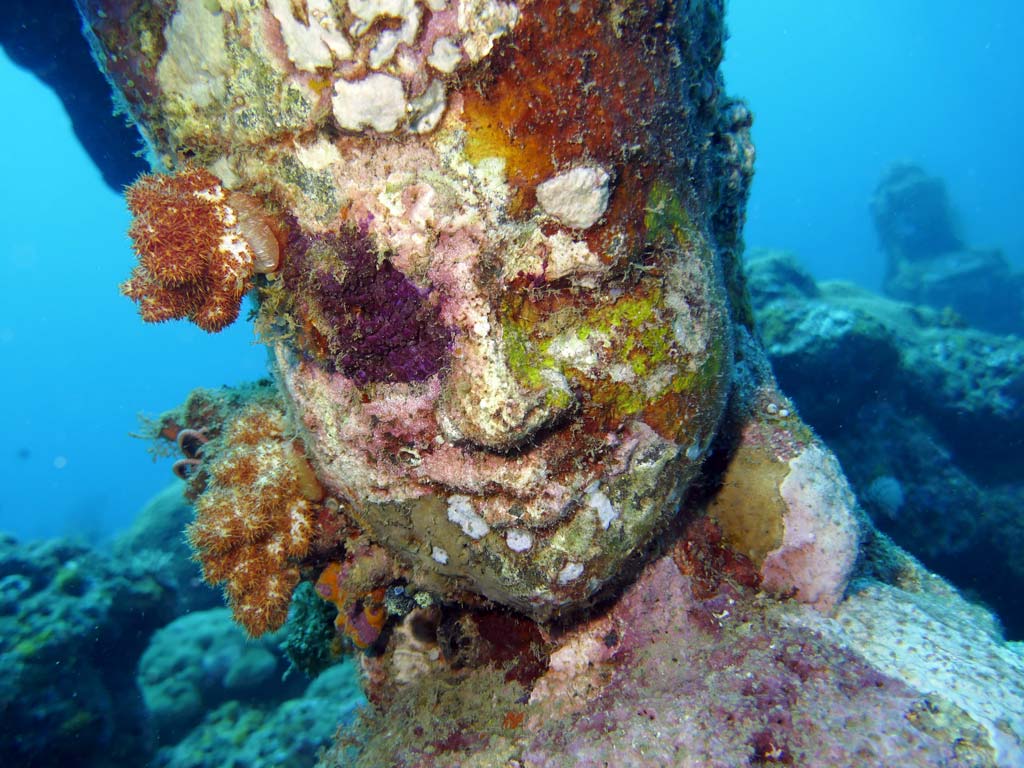 Cave II / Cave Point Dive Site: This is a famous Menjangan dive site which, as the name suggests, is home to a cave in the vertical wall which can be entered (by experienced divers). There is a window in the ceiling which allows sun beams to filter through, creating beautiful lighting for underwater photographers. The cave is only suitable for one diver at a time but there is plenty of marine life passing by to watch while you wait your turn!
Sandy Slope Dive Site: Another famous Menjangan dive which is actually a pretty coral reef despite what its name suggests. Highlights here include moray eels hiding amongst the corals, blue spotted stingrays on the sandy areas and from July to October when temperatures tend to be a little lower, black tip reef sharks and eagle rays are seen here along with numerous turtles which nest on the north coast beaches of Menjangan Island.
If you take you PADI Open Water in Bali with us we'll take you to dive the stunning dive sites of Menjangan during your course. Learn to dive in Bali and you'll be diving word class dive sites from the get-go!
Puri Jati:
This world-famous muck diving area is ideally located in the middle of Bali's north coast. Here you'll enjoy easy and relaxed dives while hunting for some of Bali's rarest and most unusual marine critters. If you like muck diving and critters then Puri Jati is a must during your diving in Bali holiday. Highlights of this unique Bali diving location include wonderpus and mimic octopus, robust ghost pipefish, nudibranch and a plethora of weird and wonderful bottom dwellers!
Bajul Bay:
Have you heard about the unique courting and mating rituals of the mandarin fish? If seeing mandarin fish in action is on your bucket list (as it should be), then Bajul Bay will be a highlight of your Bali scuba diving adventure. Join us on our Northern Bay safari to see these incredible, ornate fish in action!
Secret Bay:
Gilimanuk is best known for being the port which links Bali and Java but did you know it offers some of Bali's most exquisite marine life? Diving in Bali gets a little bit more unusual when you dive in Secret Bay! Temperatures here can be lower than at other sites due to its exposure but you have excellent chances of encountering critters which can't be found at other sites, including Pegasus sea moths, upside-down jellyfish drabs (yes they do exist), harlequin shrimps, frogfish, devil scorpionfish and ghost pipefish. If you want to walk on the weird side of scuba diving in Bali, this is the place for you!
Because Bali's north coast offers such a range of dive sites and an incredible marine life we offer a Northern Bays safari to take you to the best of north Bali's dive sites, check out safari details here. 
If you'd like to see more of Bali's best sites during your Bali Scuba diving safari then why not sign up for our Bali Nomadic Diving Safari and explore the best Bali scuba diving on offer. Our professional team will take care of all the logistics and accommodation along the way, so all you need to do is enjoy incredible Bali diving and let us handle the rest!
Not yet a certified diver? No problem. Learn to dive in Bali with us and make this your most memorable Bali holiday ever. Taking your PADI Open Water in Bali is just the start of a lifetime of underwater adventures!
For more information or to make a booking, contact us on info@abyssoceanworld.com
We are looking forward to welcoming you to diving in Bali soon!