How important is hair care while scuba diving? We believe everybody with at least shoulder long hair know about this situation: you come back from a beautiful saltwater dive with your PADI divecenter, are super happy and smily … until you look at yourself in the mirror and see that MESS!
This situation happens, especially when you are on a liveaboard or a Nomadic Dive Safari and do multiple dives in a row.
The sun is shining and drying out your hair, the saltwater is helping in tying one thousand knots in your hair which just don't want to come out… and the next dive is scheduled already after a short surface interval.
Here are some tips from a PADI pro to help out :
Hang loose – this is the perfect moment for a new look! The Rastafari look! Just keep on diving in saltwater and try to separate your hair at least in smaller branches after every dive to get an awesome result with rasta dreads in the shortest period of time.
You would like to look like a beach babe? A lot of hair product brands offer leave-in air conditioner that are coral and ocean proof such as Stream2Sea. We can recommend their conditioner even for the worst mess and a "Tangle teezer" brush. Thanks to the innovative two-tiered teeth technology, this hairbrushes detangle with minimum fuss, breakage and damage. It leaves your hair smooth, soft and shiny. With a little bit of patience and these 2 aids you get even the worst knots out.
Prevention advice while diving :
Get yourself a Bob Hair Cut – short in the back and long in the front, keeps most of the worst knots away.
Use leave in conditioner before you braid your hair, such as the Stream2Sea product we have mentioned above
Weave your hair in braids before diving; french braids or one braid on each side of your head, that keeps the worst knots out and keeps the hairs out of your face while diving
Rinse your hair with fresh water BEFORE and AFTER diving.
Use less shampoo (rinse and condition only) and restorative treatments.
Use spring hair tie to tie them up. Your hair will thank you for not ripping them off like it can be with normal hair bands.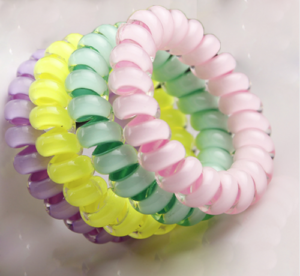 7. Use Argan or coconut oil AFTER the dives daily.
8. Diving is strenuous. Increase your protein intake, make sure you're getting enough minerals including iron and protein. When we sweat, we lose a lot of fluid and minerals. That's not just important for your hair- but to drink enough and especially isotonic drinks also minimize the risk for heat strokes and DECOMPRESSION SICKNESS IN DIVING
9. If your hair are already all broken; you could use a 3 months worth of "Pentogar" tablets, which is like a vitamin supplement for the hair.
10. Go diving or snorkeling on Bali with a hood on. We might not feel as sexy with a hood on, but nowadays, there are really stylish ones to choose from with fun designs and all different patterns and colours.
Let us know which of these tips helped you the most in the comment section below: